Working From Home and Increased Interest In Remodeling
Remodeling During COVID-19
We have received many calls over the past several months from homeowners, unhappy in their homes. Staying home, working from home, and teaching from home brings to light all the things you want to change in your house. For instance, you're spending more time in your kitchen and may notice it isn't functioning the way you'd like it. Or maybe your dining room table is now anything but. It serves as an office, a school, and the catch-all for daily life. However, is remodeling your home the right choice for you at this time? We'll lay out the pros and cons for you:
Is A Home Remodel Worth It Right Now?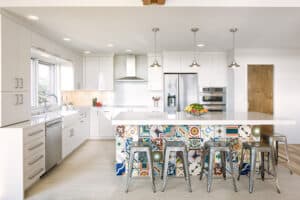 Planning a home remodel right now has a lot of advantages. Such as, you maybe have more time to plan your remodel if you are staying at home more often than not. You've been home more the past few months and have had the opportunity to sit with your decisions- you know precisely what you want. In this case, planning should be straight forward.
A pro of remodeling your home in Boulder County is that Boulder County Real Estate has historically been very steady. Investing in your home is a good idea in stable real estate markets for higher returns. Home remodeling projects that make the most return on investment in the nation are ranked as follows:
1. Kitchen Remodels (87% return)
2. Additions (83% return)
3. Bathroom Additions (81% return) according to this Remodeling Magazine study.
It isn't a bad time to start looking into remodeling your home. Interest rates are low on homes, and buyers can utilize this low rate environment to increase their loan size when purchasing. New homeowners can use this opportunity to refinance their mortgages.
Is It Safe To Invite Home Remodelers And Contractors Into Your Home Right Now?
Having a design-build company come in and renovate your home may stir some caution during COVID-19. However, Design-Build firms, on average are scheduling significantly less in-person meetings. That means the planning and design stages can happen remotely if the client chooses. As far as construction and having tradespeople in your home, there is no higher priority than our client's and team's health and safety at Melton. We are following CDC and state guidelines as far as health and safety practices go in both our office and our job sites. Ultimately the decision is up to you and what is best for you and your household. Ask your remodeler what steps they are taking to create a safe work environment.

The New Normal
According to a Gallup report on working at home during the pandemic, the percentage of US employees working from home more than doubled from mid-march to mid-may 2020 from 31% to 65%. Studies have pointed to as much as 68% of US workers currently working from home would like to continue to do so. Many businesses have been able to keep their overhead costs low. Whether you are prepared to or not, this just may become the new normal, and the number of commercial offices could very well dwindle in years to come. Setting yourself up for success while working at home is essential for you and your family. Your kids need an organized space where they can learn and avoid distractions. 
A few years ago open-concept homes were a popular trend. Now, in the age of COVID, many families are reconsidering that style of home design. Homeowners are opting for a less open and more sectioned style of living to allow for more privacy and focus.
At the very least, consider how your home is functioning for you now. It's never a bad idea to create simplicity and organization in your home. Designing your home to work for you will make the entire household happier and more productive, pandemic or not. Call us today if you are curious about what can be done to your home to make it more suitable for your lifestyle. We're happy to talk you through your options.