What Our Clients Say
Nothing means more to us than making our clients happy, unless perhaps it is making them so happy they come back to us or refer us to their friends and family!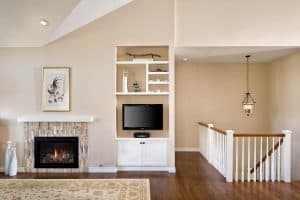 We worked with Melton on an *almost* full home remodel, including kitchen, master bath, 3 baths, exercise room, flooring. The entire project was well-managed. The project manager, lead carpenter and the entire Melton crew were extremely talented, courteous and respectful to neighbors. Top quality work! The 4 month project was kept on track and delivered on time.
Ty, Just a quick note to let you know how delighted we are with the recent remodel of our bedroom, bath, and laundry area. Given the current 'stay at home' mandate, we find that we are spending practically all of our time in the house, which makes us even more appreciative of the newly-remodeled spaces. What a delight to be able to do the laundry in the evening and be able to close the door and not hear the machines while we're having dinner or watching TV. Many lesser-used kitchen items, which had been stored in the basement, are now conveniently located in our new pantry area. The luxuriousness of our new bath area with that curbless shower still elicits an internal 'wow' every time I go in there. Sounds silly but… I love my new urinal – it brings a smile every time I flush it and think about how much water was saved vs. even a modern 'low flush' toilet. As you know this is the second remodel we've done with Melton, the first one back in January…April 2018. And perhaps you know (?) that we had the exact same Melton team this time as last. That was per our request – no coincidence – due to our delight with the first remodel. As before, the team knocked it out of the park this time as well. Very smooth process from the first design meeting to taking away the yard sign at the very end. Much thanks to the design team (Stephen P, Christine D, and Jessica W), the production team (Jim G and Darren K), and also to Scott J for keeping the project right on schedule. I know there were others at Melton – some unknown to me – who were involved behind the scenes at the office, or who occasionally came to the house that I didn't see – they, too, have our appreciation. We look forward to the day when all of this virus mania has passed and we can hold an open house and show off the new area. We also look forward to remodel #3 (once we pay for this one – it'll be a while)
We just completed a major master bath remodel with Melton that included moving some fixtures and installation of a large steam shower. Every milestone in the project plan was met on time and delivered at a high level of quality! After completing a major kitchen flip / remodel with another contractor, we were looking for a team that could provide better design assistance, attention to detail and quality of workmanship. Melton delivered on all of these and then some. This was our first project working with Melton, and I can honestly say that I don't believe it will be our last! Thank you to Karen, Emily, Kelly, Mike, Gianna and the rest of the Melton team for an outstanding remodel experience!
"It was a pleasure working with Craig Batchelder, Ty Melton and the whole Melton DB crew. We cannot express our gratitude for their excellent disposition, attention to detail and resolve. We went into the process knowing that it would be stressful, long and painful but came out on the other side with nothing but fond memories. Melton DB certainly helped ease the anxiety by being there always with a smile and a thoughtful solution. We truly appreciate the hard work, commitment and dedication they put into building our house and we feel lucky we had Craig as the PM and Ty overseeing every step of the process; he even did carpentry work on the house on a Sunday morning all by himself. Talk about being hands-on! Again, our experience with Melton DB was extraordinary because the people working there care about us, the customers. I completely recommend Melton and will, not doubt, continue using them." – Carlos R. Boulder, CO
View the project.
"I hired Melton to do a complete makeover of my kitchen, master bath, powder room and the floor and walls of the entire first floor. The project took 4 months and my experience from the first day of demolition to the final day when they removed their sign was nothing short of perfect. Their entire team was both courteous and professional every step of the way…
…Melton gets a 10 out of 10."
View the full 5 Star Houzz.com review by clicking here. 
"Melton handled my kitchen remodel and peninsula fireplace install beautifully. Excellent design work.. their lead designer really took the time to understand my tastes, preferences, and the general look I was going for. She consistently made top rate, clever, innovative suggestions for all parts of the kitchen project, and for the next phase (remodel of 2 bathrooms, scheduled for 2017). The communication was terrific, and the work was exceedingly professional.. it was overall a great experience. Highly recommended! I can't wait to start the next phase!" (Review posted on Facebook)
"We are absolutely over the moon with our entire experience with Melton. This was our first experience building a custom home and we have always heard the horror stories about how the process is very stressful. That was not the case for us, we had a great time working with the Melton Team. They made the entire process very easy, learning our style and tailoring everything to us, making all the selection decisions so easy. They stuck to the budget and we didn't have any big surprises with extra costs and even finished about a month ahead of schedule. Don't be scared of the fixed price system, we had friends building at the same time with other companies and after going over budget with almost every subcontractor they had wished they just locked in a fixed price. It will save you a lot of stress during the process. We can't say enough about our experience, we even left the country for 7 weeks during the build and did not have to worry about overseeing the project because we knew we were in good hands. On budget, on time, with a quality, beautiful finished product. Thanks Melton!"
"After spending that time with so many of your fine team, and now after living in our remodeled home, which we truly love, I wanted to let you know how pleased we are with your organization."
"It was a pleasure working with Melton. I have built one home, remodeled 4, and remodeled 4 offices…and I have to say that I am impressed. No construction company has ever been able to stick to the schedule and complete the job in such a timely manner. Kevin does his job well!"
"Aside from the attention to detail, the craftsmanship, the design and execution, I cannot tell you how much it meant to me that they made it their mission to make my vision come together. It is especially meaningful to me that during the entire process, MELTON and Tony made me feel respected and didn't talk over my head about the process. They, along with a stellar crew of workers made this a really enjoyable process. It is refreshing to work with people who have such great pride in what they do…Your work was greatly appreciated."