The Danish Art of 'Open Air Living'
Hygge is a trendy mindset focusing on the Danish art of relaxing, being cozy, and restful. Hygge is invoking or fostering a sense of coziness, contentment, and well-being defined by Webster's Dictionary. Especially popular during the short days of a Colorado winter. However, this mindset is quite the opposite of the newly popular Danish art of Open Air Living or 'Friluftsliv' (pronounced free-loofts-liv), which embraces nature and the outdoors as a way of life. It literally translates as "open-air life." And we love it.
Coloradans can do hygge well. We embrace getting cozy during cold, snowy winters by starting our fireplaces, staying put, and wearing wool everything. It is also very Coloradan to see several inches of snow in the morning and still hop on your bike to get to work. If you need more outdoor time these days, we encourage you to embrace Friluftsliv. 
Curate Your Outdoor Space
Wanting to increase your home's square footage is prevalent in a city like Boulder, where space can be limited. Taking advantage of your outdoor space can be a real bonus when there are so many sunny warm days throughout the year.
"Buyers are currently looking to bring the indoors to outdoor spaces," said Century 21 Realtor Brittany Balog. "Meaning they are looking for comfortable seating with fire pits, TVs, etc. People want to bring the comforts that are typically meant for the inside of the home to their outdoor living spaces. This is becoming more common as we know people are staying at home more often and want more diversity in their living spaces."
Increasing the spaces where your family and friends can hangout is beneficial. If you have an outdoor space that could use some sprucing up, we suggest building out your deck/patio or perhaps completely renovating the landscaping so you can add amenities such as a hot tub or pergola. With a smaller budget, you can transform a space by upgrading your patio furniture, adding a firepit, and collecting cozy blankets and yard games for entertaining.
Colorado is lovely every month of the year. Having those incredible sunny days all year long, maybe you've considered adding accordion windows to your main floor? It's pure joy to be able to open your windows wide on those first warm and sunny days in early spring in Colorado.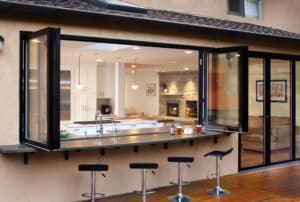 Bring The Outdoors In
Decorating your home with a variety of beautiful, lush plants is an easy way to bring character and style into your home. If you have a hard time keeping plants alive, stick to dry climate plants such as succulents and cacti and water them once a month in the winter months (twice a month in the warmer ones). You can't go wrong. If you can give more attention to your plants', large house plants such as fiddle leaf figs or ferns are beautiful and give your space life.
Defusing essential oils is also a great way to transform your space. Some favorites and easy to find are orange and lavender. Together they create a beautiful smell that infuses your home with natural elements.
Whether you're in the mood to hibernate this winter and fully embracing hygge at home, or if you want to practice the Danish art of open air living Friluftsliv- we'd love to hear in the comments the ways you adapt during the colder months.