5 Most Used Architectural Styles in Colorado
Over the years, architectural styles are developed from artistic, cultural, technological and economic movements. When thinking about building a home or investing in a home remodel, it's important to understand what's available to determine which style best fits your needs and personal taste. Take a look at the some of the most popular architectural styles in Colorado to help determine your personal residential design style.
American Bungalow: The American Bungalow is a popular residential architectural style for single family homes that came about near the turn of the 20th century. Early settlers adapted this floor plan from a home design originating in India called "bangla," a modest architectural design originally purposed for wayfarers. In the US, these homes offered traditional and simplistic design and space efficient floor plans with an artistic touch perfect for a small family. Some characteristics of these homes include covered front porches with heavy pillars and wide welcoming stairs, cedar shingles and clapboard siding. This cute red bungalow is the aftermath of a Melton exterior home remodel.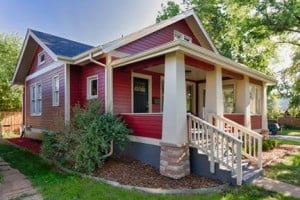 Contemporary: Contemporary architecture is technically defined by the building styles of the present day. Although it can be difficult to pin point a finite definition, some characteristics include an open floor plan, oversized windows, the use of repurposed and energy efficient materials, and at times putting more thought into the functionality of the design than the style. Contemporary homes look to connect indoor and outdoor spaces by implementing the surroundings of the architecture into the overall design. Often contemporary homes can appear more luxurious and fanciful than other residential styles; however, they are often much more refined and practical than other homes with the help of building and home technology.
Raised Ranch: Raised ranch homes are great for families because of the space efficiency and practicality. Most often these homes have two stories with the lower story at ground level or slightly below grade, an attached garage, little decoration or exterior embellishment and are often asymmetrical. Their floor plans allow for a lot of living space with large windows in both the main floor and basement giving the home all around access to bright and welcoming natural light.
Mid-Century Modern: This residential style deals with the functionality of the space to emphasize efficiency and minimalism. Some characteristics of mid-century modern include an open floor plan, built-in furniture like bookshelves or window seating and extended floor to ceiling windows. This style was constructed out of new ideas and forward thinking in the mid-20th century. World War II provided the United States with new building materials to the forefront of architecture and design such as steel and plywood. The movement in the US was largely influenced by Frank Lloyd Wright with the simplification of form and minimal decoration. Families enjoyed this style because the open floor plan brought the family together. Many home owners are investing in home remodels to knock down walls to achieve this residential architectural style.
Mountain Rustic: This residential style is native to Colorado and usually includes a heavy use of logs and stone. These homes are influenced by nature and are, therefore, designed to blend in to their mountainous surroundings. This style looks to embody a rustic style that remains refined. If you are drawn to all things mountain and love the look and feel of log cabins, then this residential style is right up your alley.
For more information on these popular residential styles, check out our E-Book Architectural Design Styles. 
If you enjoy our blog posts click here to sign up for weekly design tips sent straight to your inbox!